Wedding dance floor traditions get a new spin at todays weddings, according to White Rose Entertainment. As wedding DJs, we are traditionally tasked with MCing wedding reception activities. Such as the wedding party introductions and first dances. Or the cake cutting, bouquet or garter toss. May of these wedding traditions have changed in the last 10 years.  So below we are discussing some of our favorite twists on the classics. Because in 2022, we want to make all wedding guests feel included.  Literally every guest will feel like they are part of your celebration. From your grandparents to the single gentlemen. As well as the single ladies, mothers, fathers and everyone in between.
Wedding Party Introductions
In the past, many wedding party introductions included the wedding party, parents of the newlyweds and the newlywed couple. However, we want you to get more creative with introductions.
For instance, invite your grandparents, flower girls and flower men to make a a grand entrance. Further, special guests, out of towners, step parents and more. Let all your favorite people be introduced into your reception.
What matters is that you feel you have introduced those who deserve a spotlight. Each introduction can be different. For example, the parents of the groom are introduced from their seats. While grandparents of the bride are introduced virtually.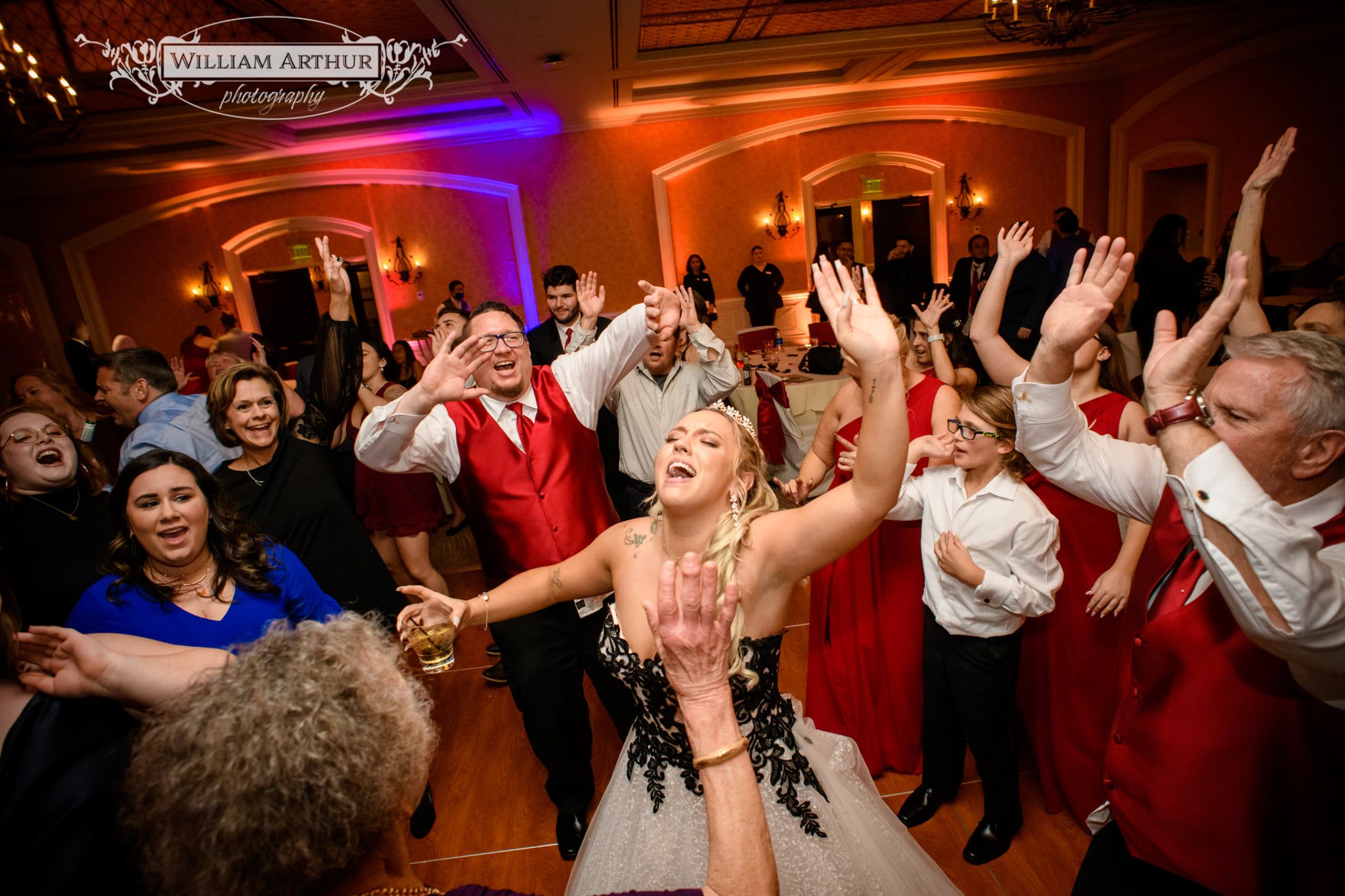 Unquestionably we love an introduction that is choreographed on the wedding dance floor. Above all, those are the most memorable entrances. Whether it's a dance off and your wedding party competes for best dance intro or most applause wins. Or the entire wedding party is part of the choreographed dance. One thing is for sure: your guests will love it!
Furthermore, consider props to help ease nerves and make it colorful. For this reason, we've seen bridesmaids dancing into ballrooms with bubble guns. Likewise, entire wedding parties donning sunglasses, cowboy hats and even outfit changes. Assuredly, your photos and wedding video will shine. While the props make it more interesting and memorable.
Not your thing? No stress. There are so many ways to get creative with wedding dance floor traditions. Singularly it's all about personalization. Therefore, you can pull your wedding theme into the introduction. In fact, add something you both LOVE, like your favorite sports team, movie, hobby, or vacation.
When thinking about wedding dances, typically there is the father and bride dance. As well as, the mother and groom dance. However, in the last decade this has been exponentially expanded upon.
Many times, we also see brides dancing with their moms.  In addition to grandparent dances.
Last month, we had a groom dance with his great-grandmother who was in her 90's. Assuredly, there wasn't a dry eye in the ballroom!
Expert tip: Cut the song time on these dances. Although these moments are some of the sweetest at your wedding, if a song is 3-5 minutes long, we promise it is going to feel like an eternity. Also consider inviting everyone to join in by heading to the dance floor with plus one.
Recently, we had a wedding fall on Mother's Day weekend. Therefore, the bride and her mom invited other moms and daughters to join them on the dance floor.
Without a doubt, our personal favorite is when we invite ALL married couples onto the dance floor for a special dance. Following this, we begin asking those married for 1 day, 1 year, 5 years, 10 years, 20 years, to kindly leave the dancefloor. Until the only couple on the dance floor is the longest married couple. We did this recently at a wedding and the longest married couple were the groom's grandparents. They had been married for over 60 years! It was such a beautiful moment and the newlyweds very eagerly had a group hug with them. Of course, followed by photos where the bride graciously gifted them her bouquet.
The classic garter + bouquet toss is getting a renovation.  Recently a wedding video went viral of a female wedding guest holding up her champagne glass as all the single ladies trampled over one another to grab a brides' wedding bouquet. Then as the other ladies fought over, and lunged for, the brides bouquet, this chic slammed her champagne in one sip and then slammed the glass on the dance floor. As if to say: NOPE, NOT INTERESTED. We got the memo too.
There are so many new takes on these wedding dance floor traditions. For example, have everyone from single ladies to married ladies vie for the bouquet. Instead of just the the single ladies. In fact, one of our brides invited her brother to help her with the bouquet toss.
Or, gift your wedding bouquet to a special wedding guest.
Gifting Your Wedding Bouquet
At one White Rose Entertainment wedding over 10 years ago, we had a bride gift her wedding bouquet to her Godmother. Whom had recently battled breast cancer and was finally cancer free! There are many people you will want to thank during and after your wedding. Certainly there is no shortage of people you can gift your bouquet to.  Or your extra bouquet. As a rule that's why the extra toss bouquet was created. And because many wedding bouquets are now being preserved in resin to keep for decades to come.
However you spin these wedding moments, the point is to always MAKE THEM YOUR OWN. With thousands of weddings under our belts, White Rose Entertainment has seen so many incredible ways of including the people you love most on one of, if not the most, special day of your life.