Ignite Your Wedding Night!
"When the best day of your life comes to an end, you've got to go out in style!"
Picture this – After your last dance is played, you surprise your guests and ignite a spectacular fireworks display. Furthermore, it has pictures of you from your wedding night and notes that your guests have written. All of these are displayed on your wedding venue for you and your guests to enjoy. Finally, by the time you're back from your honeymoon, this video will be yours to keep forever. Yes, all of this is possible with Illuminations by Barry's Virtual Fireworks Show!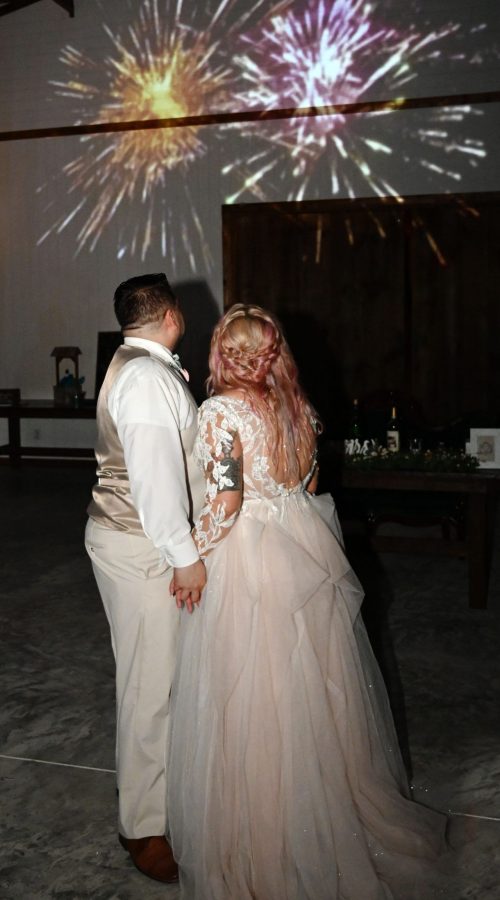 Virtual Fireworks that Ignite
Cara and Christian began their happily ever after at the Farmhouse on 44. As they enjoyed time with guests and danced the night away, no one knew there was a surprise about to ignite. Their wedding ended with a magical fireworks display to leave a lasting impression of their most memorable day forever. Their guests were so surprised when special messages they submitted were displayed across the venue. Some of the favorites were "Congratulations! Treat every day like date night." And "Remember – Happy wife, happy life."
Personalized Experience
What made their fireworks show above and beyond was the personalization. The photos projected on the venue were of their relationship throughout the years – from first dates to engagement photos. These photos showcased their love story in the most unique way. Not only was this a memorable way to end their special day, but it would ignite a love even bigger than before.
How will you customize your Virtual Fireworks show for your big day? Will you create sentimental memories of the song, "Marry Me?" Or will you end the night with a party number like "Can't stop the Feeling?" The team, at Illuminations by Barry's Virtual Firework Show, designs the finale of your wedding night perfectly to your specifications. Ignite your passion and love for one another by booking your wedding night fireworks. These fireworks are for all venues, inside or out.
WHAT BETTER WAY TO END YOUR SPECIAL DAY, THAN WITH A BANG?!